Our Team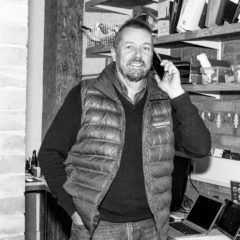 Andrew Reed
He Hates Titles
Where to start! As a man surely too 'mature' for his levels of drive and energy, Andrew has used his wide-ranging experience of many years in the brewing industry to create and run a brewery that aims to give the customer exactly what they want! Sales, Marketing, Finance, Logistics, Planning, Development and the all-important Quality Control are all in a day's work for Andrew and, as in any small, hard-working business, he's just great on the fork-lift.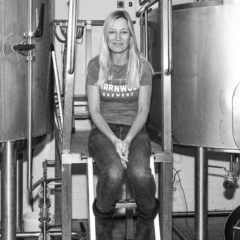 Andrea Reed
Brewing Director
Having worked in nursing, PR and higher education Andrea took up the challenge when husband Andrew suggested she become a brewer. Following a first-class apprenticeship with Sara Barton at Brewster's Brewery and studies at Brewlab in Sunderland, she has gone on to create national award-winning beers, loving every brew-day working in her 'giant's kitchen' with the wonderful malts, hops and yeast that give Charnwood Brewery beers that special something. Andrea has now retired from the day to day brewing.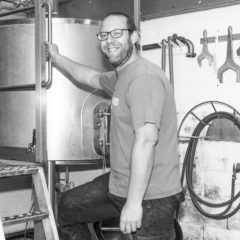 Andy Hambleton
Head Brewer
Having originally come to Loughborough for its university, Andy is known to many in the area as a much-loved ex local Landlord. With his fine palate, deep knowledge and love of beer, ability to fix stuff and enviable blackboard skills, the brewery quickly snapped him up as its first full-time employee. Andy's quickly progressed to become a Brewer designing his own fantastic beers in 2017, recipes, names, pump clips and all.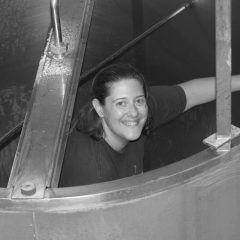 Sarah Harding
Assistant Brewer
Sarah is a jack of all trades. One day you will find her brewing, then another you may find her racking, delivering or even pulling a pint or two in The Hallcroft Tap and Sorrel Fox. She has even been seen unloading deliveries on the forklift truck on occasion. As if she is not busy enough, at the ripe old age of 30 something, she decided it was a good idea to take up weightlifting and playing Rugby for Sileby Vikings Ladies. Will she ever sit still for more than 5 minutes??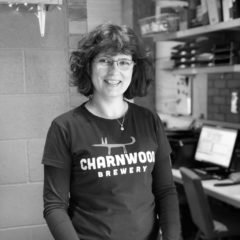 Liz Lockwood
Administrator
With a focus on bookkeeping and systems both here at the brewery and in our micropubs, Liz brings a wealth of experience in administration from many years working at Loughborough University. Liz has learnt how to keep Andrew in check, mostly with home-made cheese scones. You will also find Liz working in the brewery shop.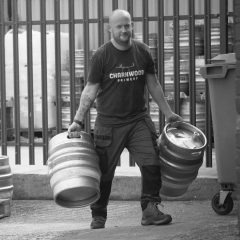 Tyrone Green
Brewery Assistant
Tyrone started his working life in production; he spent 12 years making wonderful celebratory cakes and deserts at David North in Rothley. After a couple of years in the wilderness he's back helping produce happy beer. Tyrone lives within walking distance of the Hall Croft Tap where he and his dog Loki seem to migrate (when his wife Jane isn't looking!!)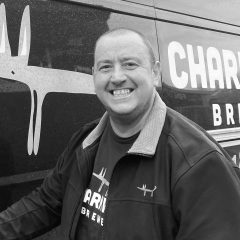 Dean Birchenall
Drayman
Dean's formative years were spent helping his family run a couple of Everards pubs in the Charnwood area. As he has two left feet he didn't follow in his dad's footsteps, but started Birchenall Couriers after a steep learning curve working for Amazon. Dean's dog, Layla, has a homing beacon for the Woodies in Rothley.