News
Time for an update!
28th August 2015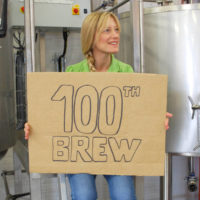 Less than nine months after our first brew we've produced the hundredth one; that's over a quarter of a million pints! In that time we have brewed twelve different beers, of which ten have been bottled. All the beers have been well received in pubs in the Charnwood area as well as slightly further afield around Leicester, Derby, and Nottingham. Our beers have also traveled to many parts of the UK; Edinburgh, Kent, Cornwall, London, South Wales and the Lake District. Whilst it's great to see our beers being drunk around the country it is the drinkers and local pubs in Charnwood that have embraced their local brewery.
The tap room and shop have been getting busier every month whether it be for a relaxing pint after work on a Friday or a minikeg for that weekend party.Brewery tours continue to be popular with hundreds of local people hopefully a little wiser about the wonderful brewing process and how and why Charnwood Brewery started.We started the brewery with three people, just family.Over time as we have become busier, we have taken on additional staff to carry out many different tasks big and small.
The major staff change has been our son George deciding to go to Lincoln University to study Business and Marketing and we wish him all the best!He's been replaced with Andy(sorry we're now Andrea, Andrew, and Andy!), ex landlord of the Swan and local cider maker. Andy has joined us with a view to learning to brew as well as help us run all aspects of the business.We are very proud of all of the design work at the brewery and we thank a dozen eggs for all their great work in helping us to take our ideas to the finished article.Onwards and upwards!