News
Leicester's Winter Food and Drink Festival
23rd November 2015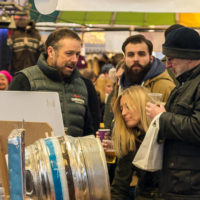 Charnwood Brewery's beers were available in the Drinks Zone at the very successful Leicester Winter Food and Drink Festival,which was held on November 22nd 2015. The Drinks Zone was organised by Pie and Mash Productions , who had visited Charnwood Brewery the day before to pick up a selction of beers for the event.
Celebrating the start of the Christmas season, this wonderful free event was made up of 150 + food stalls and  Christmas  craft stalls, all from local producers. Throughout the day there was a  variety   of entertainment, including some of the best local musicians, cooking demonstrations from one   of Leicester finest chefs, face painting and more!
The Drinks Zone also had its own entertainment, providing some of the most wonderful local musicians.
More photos from the event click here.